First Class
Sixes
Join us for our first 1-Day Men's and Women's Sixes event on August 6th, 2023!

Form your squad and come compete for 1 day to finish out your summer.
Need a Team? Free Agent Sign Up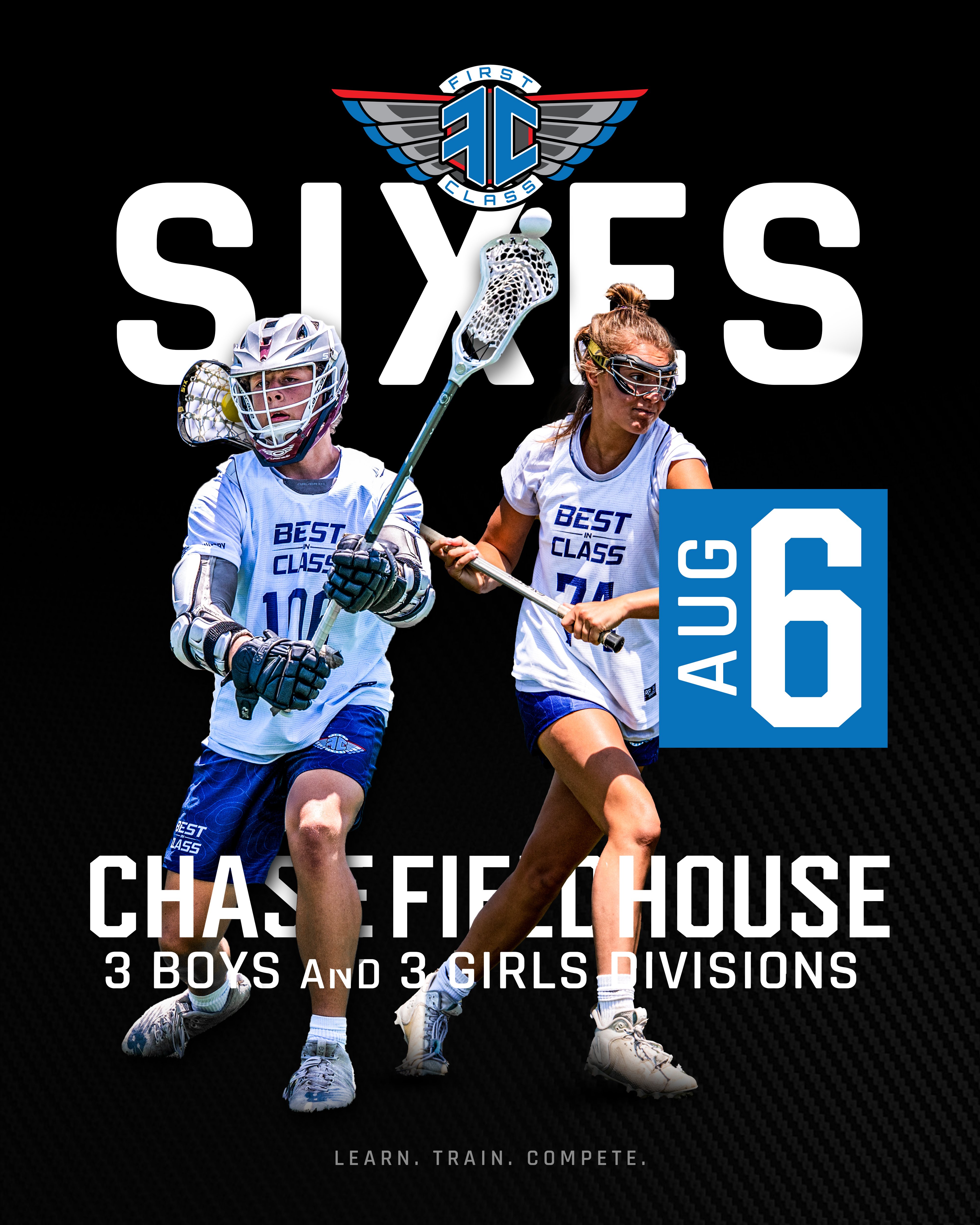 What is "Sixes"?
From Deemer Class
Founder of First Class Lacrosse
Sixes is an exciting format that is the proposed rule format for inclusion of lacrosse into the 2028 Olympics. We think it is exciting for development and teaches lacrosse players to be "players!" We are excited to launch our first sixes event to bring the FCL community together and have some fun as summer winds down, while getting better!
Sign Up Process
Players must sign up under 1 team registration.
Divisions (Men's/Women's):
High School (2026-2023)
Middle School (2027-2029)
Youth (2030-2032)
The Format
The First Class Lacrosse family is organizing a great day of action with the Olympic hopeful Sixes format.
Date: August 6th (Sunday)
This 1 day format will provide minimum 3 games in pool play before heading into a bracket style playoff.
Games begin as early as 9 am and end no later than 6pm.
The Rules
These rules will be following the proposed Olympic Sixes rules. We will educate players and families on these leading into the event. We will have visible shot clocks for the semis and finals!
:30 second shot clock
Games played in four 8-minute quarters
Goalies initiate play after goals are scored; draws/face-offs occur only at the start of each quarter
70 x 36 meter field
Emphasizes tempo, with fewer stoppages in play
Everyone plays both sides of the field (defense/offense); substitutions made on the fly
Rosters comprised of 10-15 players, leading to more playing time and more touches on the ball
On the women's side, defensive players are not penalized for entering the shooting lane of an offensive player; offensive players are penalized for taking a shot without regard for other players
Chase Fieldhouse
The Chase Fieldhouse is a 2,500-seat multi-purpose arena and sports complex located at 401 Garasches Lane in Wilmington, Delaware 19801.
161,000 square feet, visible from I-95 and I-495
Home of the 76ers G League team the Delaware Blue Coats, Nemours Sports Medicine and Titus Sports Academy
Seating capacity for the arena is 2,500 people
State of the art indoor turf field 100 yds x 70 yds
3 State of the art Outdoor turf fields
A mezzanine that overlooks both the basketball court and turf field that can fit 450+ people
Field Map
The Fieldhouse has a state of the art indoor turf field (Field 1) that is 100 yds x 70 yds, three state of the art outdoor turf fields (Fields 2, 3 and 4), and a mezzanine that overlooks both the basketball court and turf field that can fit 450+ people.